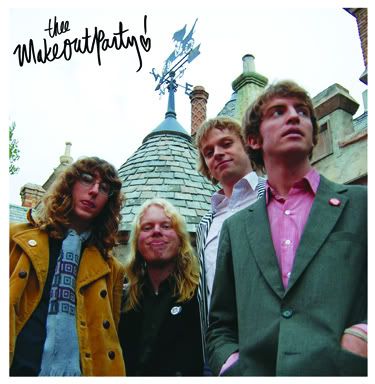 Thee Makeout Party
Play Pretend
Teenacide Records / Recess Records
"Wreckless Epic"
[audio:http://www.theemakeoutparty.com/flash/downloads/05_wrecklessepic.mp3]
The CD version of this album is being released on Jim Freek's power-pop-oriented label, Teenacide Records, so it's tempting to describe this record as sounding like Chris Stamey from the dB's singing for the Real Kids. These kids do sound real power-poppy at times, especially on this album, where the production values are cleaner and less in-the-red than what you may have heard live (or on their super-limited-edition seven inches).
But while this CD is less raw and ragged than their Velvets-meet-the-Archies live sound, it's still definitely nowhere near the hip sophistication of, say, the Stones-meet-Jack-White blues rock that Dan and long blonde Alex grooved on during their stint with indie-rock darlings the Willowz.  And that's more than fine for me.  While I really do like the eighteen bell-bottomed bands currently trying to wedge themselves between Let It Bleed and Sticky Fingers, it's nice to hear an album crafted by guys with broader record collections, who can evoke all the styles they love without being derivative of any particular era of music.
Sure, Thee Makeout Party's bubblegum roots are still on display here, and not just because they prove their credentials with a cover of "My Birthday Suit" by the Cattanooga Cats (a Hanna-Barbara rarity previously only spotted in Don Bolles's record collection).  But unlike their live shows, here Dan pulls back from his Ohio Express nasal inflection and sings with a tuneful, slightly somber voice, one that perhaps reflects his real personality.  Don't let those smiling photos of him on Disneyland's teacup ride fool ya—this is a dark, bitter man-child who has some real demons he's trying to drown in the kiddie pool.  His songs' references to second-base relationships, and the bridge he so cleverly steals from Barry Manilow in "Change," are just the varnish of goofiness he uses to lacquer over the monstrous painting in his basement.
I don't want to give the impression that this album is doom rock.  This is still punk-party pop in a tight little package, with no song running more than a couple minutes long and most songs far shorter.  Each new listen makes me happier, as I discover a six-string Byrds variation here, a Descendants' bass line there; no mean feat for a four-piece with only an occasional keyboard plink or vocal punch to accentuate their song structure.  There's a lot of playfulness and fun in this album, including (dare I reveal it?) that nostalgia of the '90s, the hidden bonus track at the end!  But instead of getting the Mad Hatter tea party music I was expecting, I got something slightly different: a catchy-as-hell ride through the ghostly corridors of Orange County, and a lost love that just might follow me home.
The album comes out June 8th, and they're having a record release party with Devon Williams at the Echo that night.  You should be there, cash in hand.
— Dan Collins