CORNERS: LIKE TO MAKE MUSIC MUCH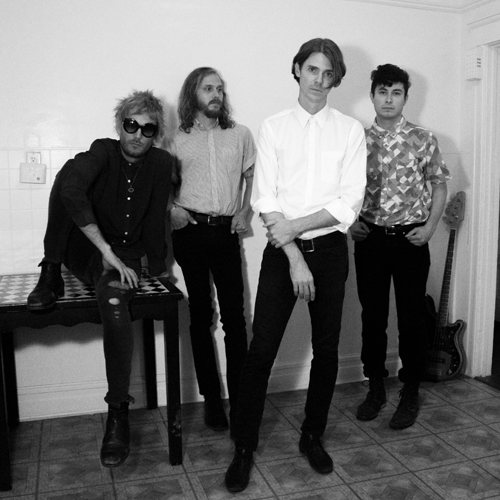 angela ratzlaff
Corners dismantled a classic L.A. punk sound—something between the Plugz and the Gun Club, and/or a slightly more alternate-world Repo Man soundtrack—and reassemble it for their own personal purposes, as documented on a series of Lolipop releases and a recent split with Dirt Dress. They conclude their residency at the Echo on Mon. July 28 and speak here about the limited opportunities available for totally losing one's shit. This interview by Anna Badua.
There is no biographical info on you guys anywhere online—why? How important do you think a personal online presence is for your band?
Billy: Tracy and I like to keep up to date. We love making fliers for the shows and try to use all the free resources out there to tell people where we're playing. Our main website is on Tumblr. We like posting funny pictures of us and our friends.
Tracy: I think it's important, but I don't think it's everything. I think all our band's beginnings came from places like the Smell which was big for us—just playing with other bands, and playing shows.
Jeff: Who are we to say we're this way or that way? How many times have you met a musician you respect only to find out they're an asshole or something and then you hate their music? If people want to know who we are, come to a show and say hi. We like to talk to everyone. Or email us—Rick likes to get emails.
How do you think an all-ages venue like the Smell helped shaped Corners?
Tracy: I feel like that's the key to our whole thing. When I look at music I feel like just growing up, I was digging in the most and the deepest when I was 16, 17 and 18. Bands I would find out from old skate and surf videos and stuff like that. I think of all the kids at the Smell are there during an impressionable time with no distraction—there's no alcohol or drugs. I feel like that's the best thing about it.
Rick: It kinda makes you think about when you were that age and watching bands that you thought were rad.
Jeff: Kids have no inhibitions or presumptions about things. They're just fully enjoying the moment. It's like you forget. You have to start paying rent or working stupid jobs. Kids don't think about that. So when they go to a concert, they're just there—losing their shit.
Billy: The most important thing about the Smell is that it's a community space. A lot of the people there volunteer. Tracy and I met there. If it wasn't for the Smell we probably wouldn't be a band. I was volunteering there a lot. Tracy gave me a CD of Corners. And I feel like that's where you can really meet people and see if they're about the same thing.
Community seems to be something that is important to you as a band. What's the Lolipop or Echo Park scene like? And what do you feel is an advantage of being a part of Lolipop Records?
Rick: It's diverse. Mostly diverse I would say, but friendly.
Tracy: It's just like a community. People are stoked.
Jeff: Everyone here is super hard working. Billy was in here working on the studio the day after Lolipalooza. That was the most inspiring thing for me to see this dude with a fucking paintbrush the day after this crazy show—you know they sold 1,100 tickets by 2 PM. And I dunno, it just seems like this crazy energetic hub where people are dedicated and passionate and working hard.
Three of you are engineers—what's that do for your music?
Jeff: That's the magical thing about this band and I can safely say that because I just linked up with these dudes to join the band. The reason why it's so attractive to me … I mean, I love all these dudes, but Ricky and I have been working together. He was my engineer. Billy's an engineer, he engineered my live set. And Tracy made the first Corners record by himself—engineered and recorded. I record music. I think that's what makes this a special group—it's not just like a band. It's people all thinking about the recording art, too.
Billy: We believe half the art is how it sounds when you're playing it back.
Tracy: I feel like we take our recordings pretty seriously. The band is cool like that—it's built on a lot of layers. It's thinking about an album, more than just a live band that sounds good jamming it out on record. You have to put a lot more into it. It was cool because we did both 7 inches at Ricky's barn. The initial Corners record I did. Billy did the new record. It's the whole change thing. We're open to other people recording us or working with us—that'd be different.
Billy: Engineering is very important to us. I mean, that's what we do for a living. Ricky has his own studio and I am the studio manager at Lolipop. We take that as an art form. We're pretty controlled in that regard.
Excellent. Since there isn't much written about you yet, I'm reminded of Hemingway's famous six-word story. What would your six-word story be?
Rick: We like to make music much.

CORNERS WITH SANTOROS, ADULT BOOKS, DEBT AND DJ CHRIS ZIEGLER (L.A. RECORD) AT THEIR FINAL RESIDENCY ON MON., JULY 28, AT THE ECHO, 1822 SUNSET BLVD., ECHO PARK. 8:30 PM / $5 FOR 18, FREE FOR 21+ / 18+. THEECHO.COM. VISIT CORNERS AT CORNERS.BANDCAMP.COM.