NICK WATERHOUSE + PAUL BERGMANN + PEARL CHARLES @ THE TERAGRAM BALLROOM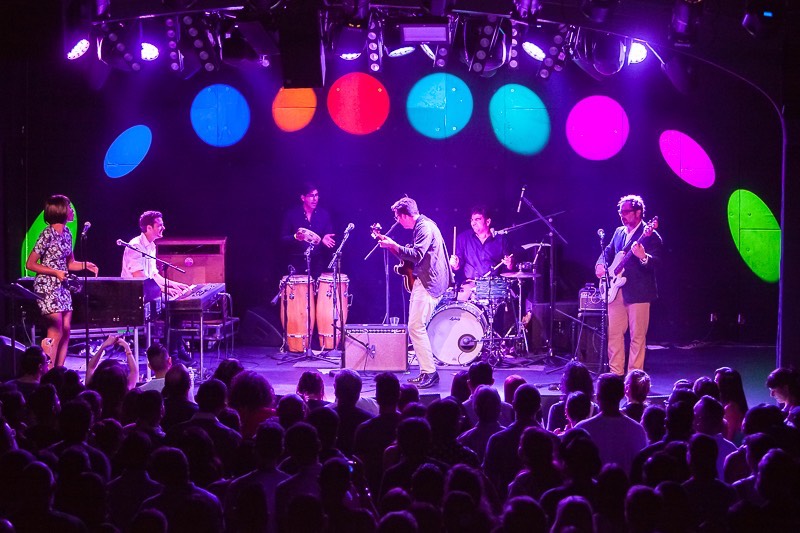 Photos and words by David Valera
"Some people tell me I'm not soulful enough", exclaimed Nick Waterhouse at the Teragram Ballroom. A big resounding, "Fuck them" howled throughout the crowd as the jam packed house impassionedly disagreed with the statement. Waterhouse's mid-tempo, west coast grooves on, "Say I Wanna Know" has a familiar nostalgic sound, but is elevated by a unique, modern-day twist. The sultry and crooning sounds of "Sleeping Pills" got the females in the room swaying in delight. Later in the set, Nick brought forth higher energy songs, "This is a Game" and "It No. 3" which showcased his guitar prowess and set keyboardist, J.T. Thomas' fingers on fire. As the night progressed, things hit a boiling point as a fight broke out and a couple of guys had each other in a headlock. Waterhouse stopped and said "Ah come on guys…can we have security?" Things quickly simmered down without further incident in which Waterhouse pointed and said, " You stay there and you over there and everything will be cool". The music continued and everyone was soon dancing and swinging to the sweet sounds of "Holly."
Waterhouse concluded and said, "The best thing about my career is not having to throw anything out because I'm very proud of everything that has ever happened. I'll be playing the same songs 10 years from now, 20, 30 even 40." We all certainly hope you do.
Echo Park local Paul Bergmann revealed a story driven folk musician influenced by the sounds of Bob Dylan. Produced by Nick Waterhouse, his performance commanded attention by all who were captivated by his sound and forgot to grab a beer at the bar.
Local Angeleno, Pearl Charles greeted all coming through the doors with her bluesy-rock psychedelia sounds. The twangy guitars and sultry voice of "You Can Change" is a memorable song that hooks you in immediately and drags you for a ride. Pearl Charles is playing Burger A-Go-Go this Saturday!