L.A. RECORD PRESENTS DESERTED AT THE PALMS MUSIC FESTIVAL
L.A. RECORD has teamed up with friends to present Deserted At The Palms, a wild weekend in the California desert. This May 17, take a little vacation to The Palms, a surreal dive bar in the Mojave desert, just outside of Twentynine Palms and beyond anywhere you've been before. Surrounded by scrub and sand for miles, camp out under the stars with an intimate audience (as far as music festivals go) to enjoy a veritable powerhouse of great bands. Tickets are limited so get yours today. Here's a look at the enchanted lineup.
Chrome Canyon

With theremin as one of his instruments, Chrome Canyon's music takes your mind on a sci-fi cruise to outer space.
Geneva Jacuzzi

A lo-fi experimental one-woman pop experience, Geneva Jacuzzi brings theatricality and danger to a stage.
Prince Rama

The sister duo makes magical music with tribal beats, ephemeral chants, and a new age dance club aesthetic.
Amanda Jo Williams

It draws you in with Amanda's thick southern drawl and clever, quirky lyrics, and spirals into a super psychedelic hoe-down like no other.
Alex Lilly

Alex Lilly writes infectious, smooth, fun r&b pop jams that are sometimes silly and always tasty. Her on-stage banter is a hoot.
Sex Stains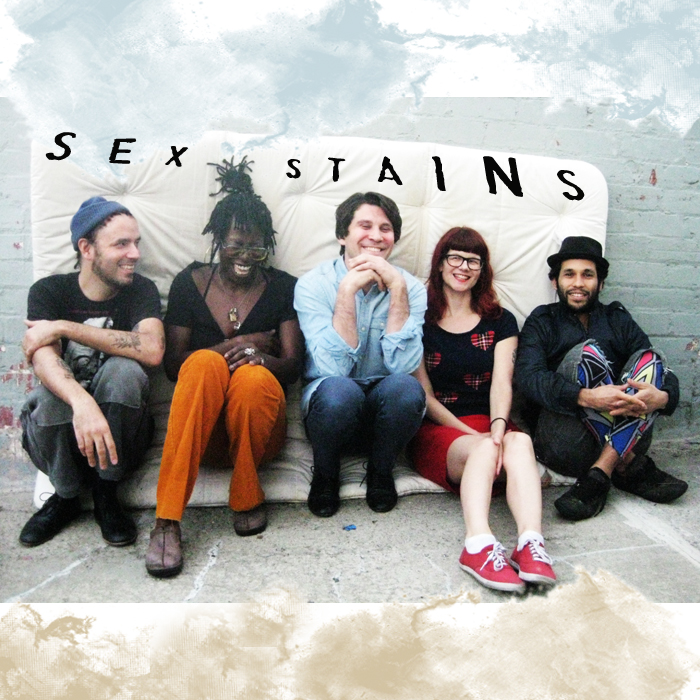 The pairing of Riot Grrrl pioneer Alison Wolfe and experimental dancer/choreographer Mecca Vazie Andrews as lead singers of a punk band is the coolest.
Rainbow Arabia

Rainbow Arabia's new music draws retro futuristic synthscapes. It's an avant-garde dance pop fantasy. They're performing an all new set in the desert.
The Sibleys

The Sibleys siblings own The Palms! A show at The Palms without them playing would be like putting on someone else's shoes without socks, just unfathomable, crazy. "Can I Borrow Your Guillotine" has to be The Palms theme song.
Dream Boys

The paisley pop band's bittersweet summery guitar jangling sound is bright-yet-bleary eyed and warm as the sun.
Gun Outfit

This punk band serves a platter of doom and slurps it up like spaghetti. Lyrics about delusion and failure get devoured by the music's momentum, culminating in a satisfied cathartic "fuck all that" feeling.
Bloody Death Skull

Boys, day dreams, TV, surrealism, science fiction, vampires, and the apocalypse occupy this soul-punk band's attention. Sometimes morbid, often adorable, the Oldies-inspired ensemble combines fuzzed out ukulele with toys and sound effects.
Nite Jewel

Nite Jewel's synth driven music stretches between funky pop and r&b like dreamy aerobics. While reminiscent of the 1980s, it blooms and diverges in all the right places.
Thee Oh Sees

Exhilaratingly loud and all-encompassing, psych rockers Thee Oh Sees cast a net over a willing audience like a hunter using powers of enchantment to lure rabbits. The band is debuting its brand new lineup in the desert.
White Fence

This band expertly wields the weapons of psychedelic garage music. Folky in the elbows, brit pop at the knees, the music travels from swamp to surf, up the mountain and through the woods to the wide open range of the desert.
Hott MT

Combining flavors of thai pop, shoegaze, and punk mentality, Hott MT bubbles and churns until funky deliverance bursts from its seams.
Cate Le Bon

Whimsical and haunting, Welsh singer Cate Le Bon's unique voice is mysteriously alluring. Her songs float through you like flowers landing on a pond.
Deserted At The Palms takes place on May 17 at The Palms, 83131 Amboy Road, Wonder Valley, 92277. Presented by FEVER, L.A. Record, dublab, KXLU, Permanent Records Los Angeles and L.A. Fort. All ages. Free camping. Music starts at 3pm. Arrive way earlier to set up tents. Get tickets.