COACHELLA DAY 1: GRINDERMAN, BLUR, JURASSIC 5, FOALS, YEAH YEAH YEAHS, WOLFGANG GARTNER, INFECTED MUSHROOM, BEACH HOUSE, SPARKS, PARMA VIOLETS, JELLO BIAFRA, LEE "SCRATCH" PERRY, ALT-J, JAPANDROIDS, METRIC, JOHNNY MARR, DAM-FUNK, BEARDYMAN
Coachella's line-up this year hearkens back to the past—not the old past, but my past, to the bands that were popular when I was in high school. To keep in the spirit of things, I've reviewed all of Friday's bands as I might have done in Freshman English at Booker T. Washington High School in Tulsa.
Today's format? All haikus!
Coachella Security
Pat me down just once?
Why not twice? Now I've lost my
fucking sunglasses.
Beardyman
Bested Doug E. Fresh!
Not historically, but you
don't seek OT III.
DAM-Funk
Haaaaaate Facebook haters?
Keep perspective: out there's TEN
THOUSAND boogie fans!
Beer Tent
No drinks out, I get.
But no water bottles in?
How does that make sense?
Johnny Marr
"Oi! I am human!
And I need to be loved, kids.
Just like Morrissey."
Metric
"The List"—killer song!
If they have another one,
I didn't hear it.
The Press No Longer Get VIP Wristbands
Why no VIP?
How can I be objective
among the riff-raff?
Japandroids
"This weekend, new song!"
What punks paid for both weekends?
Still, a nice gesture.
Alt-J
Kiss Army, it's not.
But this gentle vocal band's
fans love fog machines.
Timing Dilemmas
Sparks is on in TEN!
How will I see both them AND
Jello Biafra?
Lee "Scratch" Perry
No iron shirt, but…
Sunset sets look good with a
mirror on your crotch.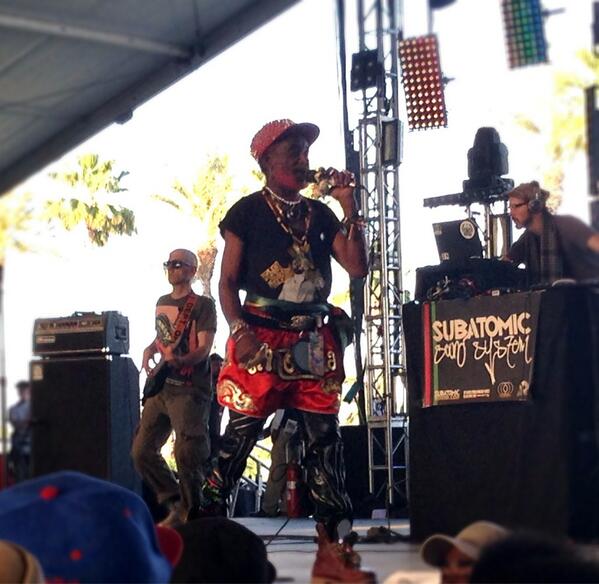 Jello Biafra
Among the retreads,
Something's noble about him.
He's never looked back.
Parma Violets
Brit Pop's back again!
Mad lads jumping round on stage.
"Brand New Song" indeed.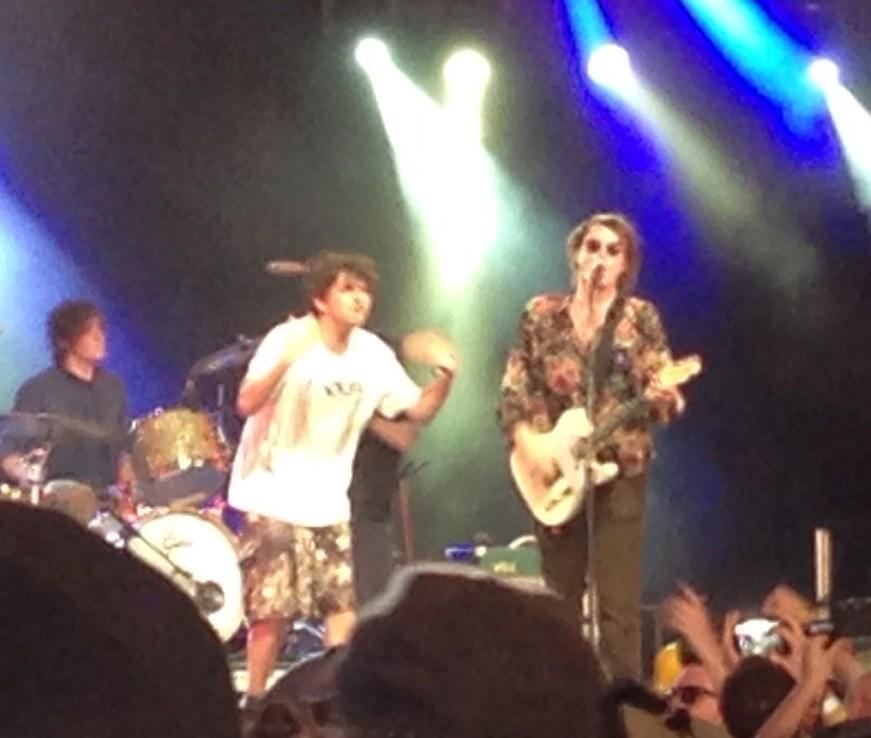 Sparks
Sparse, just piano.
The irony falls away.
Angst runs down our legs.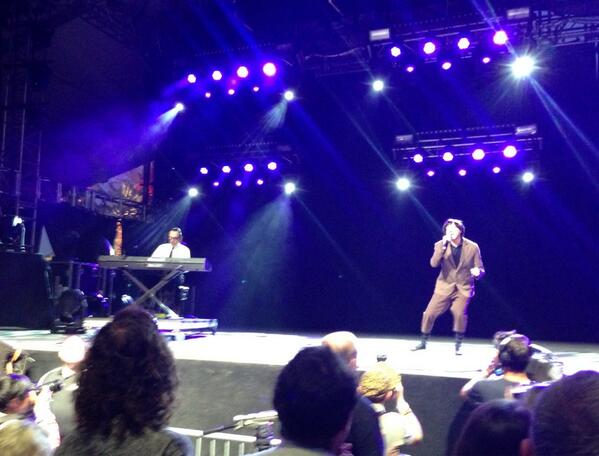 Beach House
Heard of "Snowdon Song,
by Tony, Caro and John?
You stole it. Charming!
Infected Mushroom
Wingless Tai Fighters?
Wanted to make fun of you,
but you rocked my ASS!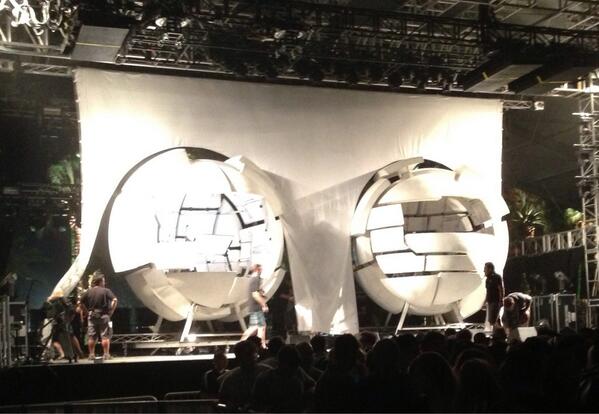 Wolfgang Gartner
Best visuals yet!
Better than Amon Tobin.
Or cheap LSD.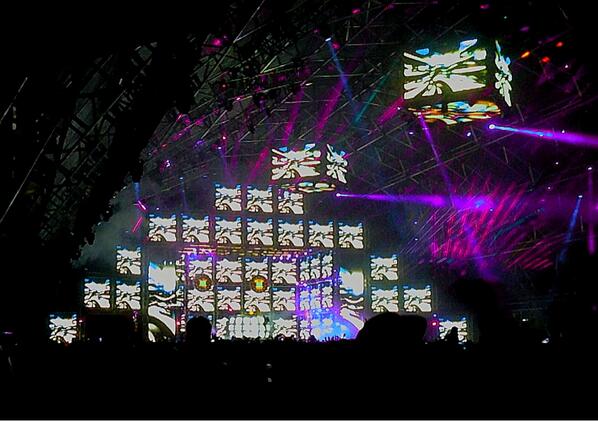 Girl in a Headdress
Are you Sitting Bull?
No, you were raised in Brentwood.
Go fuck your own shit.
Dear Weird Hippo Men
Dear weird hippo men
The headdress girl was stupid.
You made it better!
And Still the Hippo Men
I think, still, of you.
Stone Roses won't play my song.
But you've played my heart.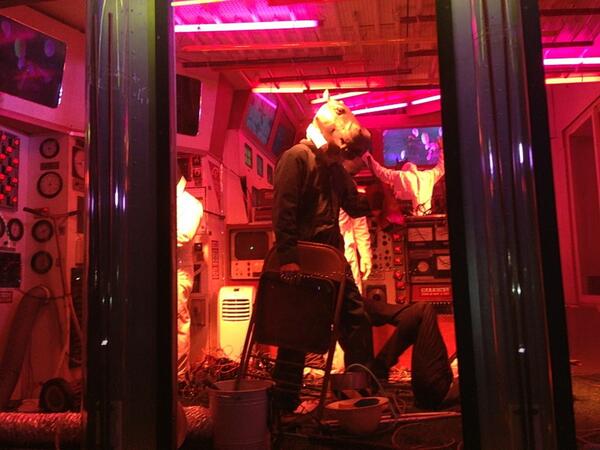 DJ Harvey
Super disco set!
3 a.m. eternal house:
How I like my love.
Yeah Yeah Yeahs
Didn't expect this:
Not stale, great songs, and that voice!
Oooooh… much better live.
FOALS
Well, that's a weird trick,
To make your screams sound like yawns.
Oh, wait, that's the crowd.
Grinderman
When Nick Cave found soul,
That was a better day for me,
Than first gettin' laid.
Jurassic 5
Classic rap talents.
Dredlock dude's rhymes are so tight
People stopped dancing.
Blur
There's no other way.
Have to leave before you play.
Too much bands! Too much…
-D. M. Collins