THE LOVELY BAD THINGS: GONNA ITCH REALLY BAD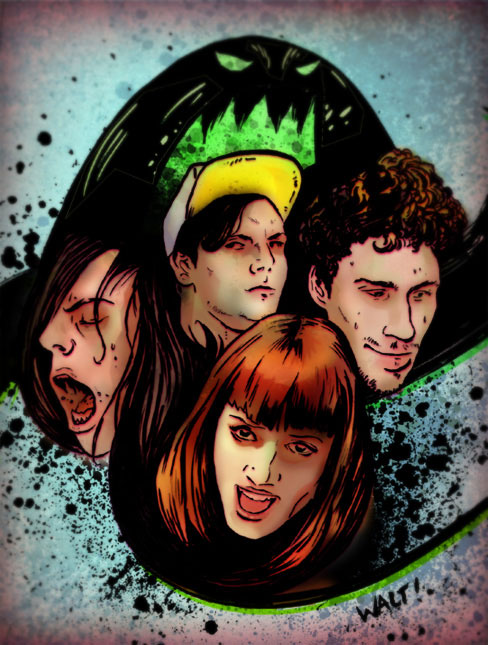 walt! gorecki

Lovely Bad Things are not only Brayden Ward, Camron Ward, Lauren Curtius and Tim Hatch, but everything you always thought of as an L.A. garage band in one supremely un-self-conscious package. Besides evoking 60s riot-on-Sunset acts like the Standells and Thee Midnighters without archness or irony, this La Mirada quartet is used enough to shouting to want to conduct their end of this short phone interview from inside an Orange County tattoo parlor. They play with the Cosmonauts at a FREE show at the Standard Hotel downtown this Thursday! This interview by Ron Garmon.
Who's getting the ink today?
Brayden: I'm getting "Radiant Baby" by Keith Haring.
I didn't go to SXSW, but I did hear the mp3 of "Blood on My Moccasins," and holy shit! How does it go over live?
Tim: How does it go over what?
HOW DOES IT GO OVER LIVE?
Tim: It goes over pretty well the few times we've done it.
Do you guys have any awful L.A. live stories? I read the one about you guys almost getting murdered up in Washington last year …
Lauren: That was actually a joke!
Tim: But we're used to Los Angeles! L.A. is no big deal to us, you know what I mean. We've been there so many times and live so close that we don't really feel threatened. We've had shows where kids get really crazy and there's blood and stuff, but there was not any time that we walked in the streets and feel we could get killed and that's what up in Washington was like. That's why it was truly outta left field for us. It wasn't any thing we thought would happen up there. There were all these weird, weird people—people who looked like they hadn't bathed or anything.
One thing L.A. is short on is killer rednecks with eyes on the same side of their face. How did SXSW go? Did you guys have any strategy?
Tim: Oh, it was amazing. We had a really good time. We had a setlist and a skeletal idea of what we were going to do. There are people who don't really have much of an idea what they'll do and others who plan to a T, and we're in the middle.
What's your next release after New Ghost/Old Waves?
Tim: We're working on a full-length to come out this October, with possibly a single this summer. The album doesn't have a name yet.
Lauren: I feel like a little more eclectic, simply because there'll be a lot more songs. You'll get to see a little bit more of our influences.
How'd the tattoo turn out?
Brayden: Great! It's gonna itch really bad. Keith Haring's a lotta ink.
L.A. RECORD + BLUNDERTOWN + BURGER RECORDS PRESENT 'ART ROCK' WITH LOVELY BAD THINGS AND THE COSMONAUTS ON THUR., JULY 12, AT THE STANDARD DOWNTOWN, 550 S. FLOWER ST., DOWNTOWN LA. 8:30 PM / FREE W RSVP TO DTLA@STANDARDHOTEL.COM / ALL AGES. THE LOVELY BAD THINGS' NEW GHOST/OLD WAVES IS OUT NOW ON VOLCOM. VOLCOMENT.COM.