GOSPELBEACH: LOVE DOESN'T AGE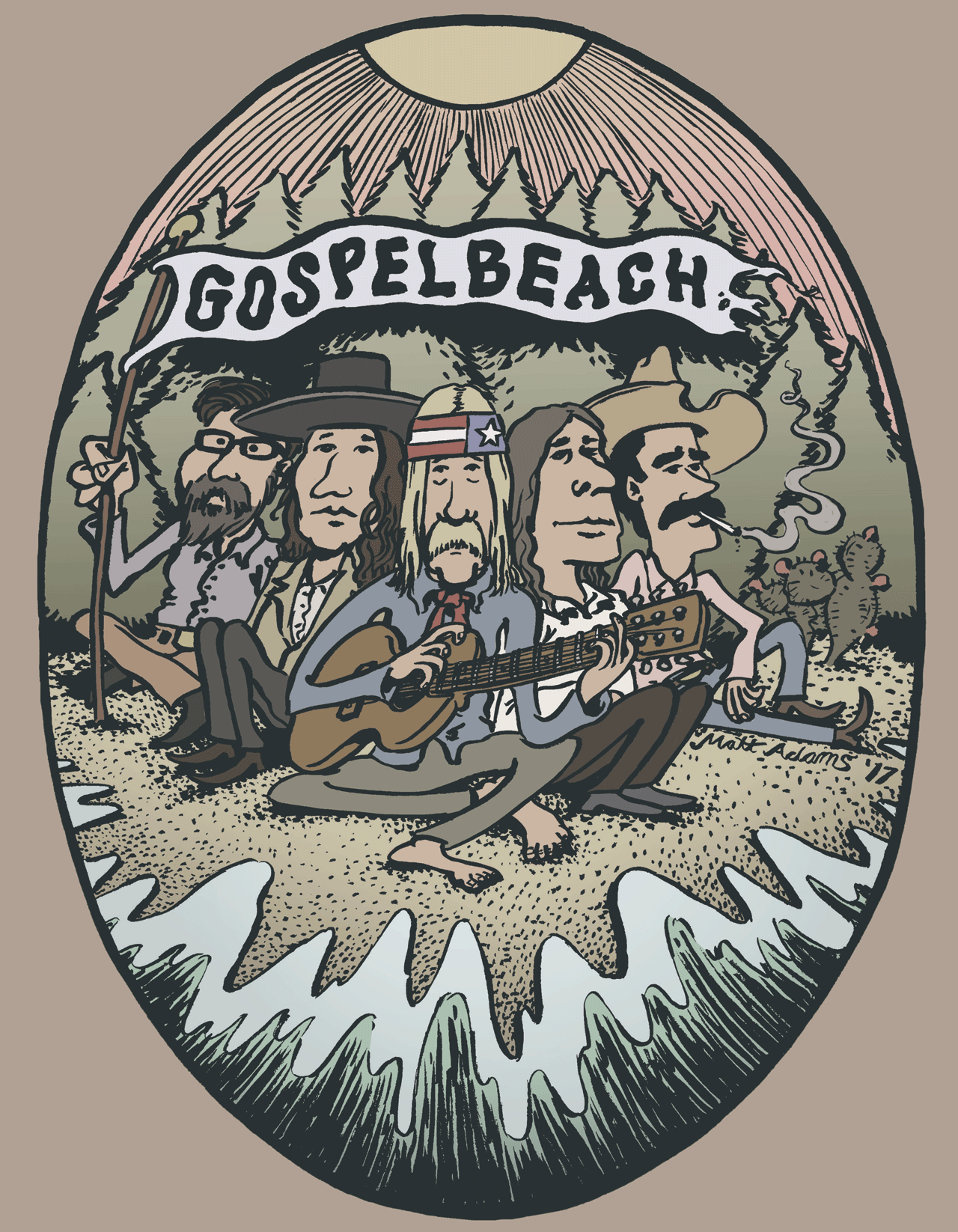 illustration by matt adams
For almost 30 years, Brent Rademaker has been a presence in L.A. music, and his influence—infused with the legacy of country rock like Gram Parsons and Gene Clark—looms large over local artists as diverse as Ariel Pink, the Allah-Las, and Ryan Adams. Among his credits: founding the storied '90s indie rock band Further with his brother Darren; leading early-'00s psychedelic country band Beachwood Sparks; and, in recent years, fronting GospelbeacH, whose music has drifted from rustic American Beauty-inspired rock to cozy late-'70s AOR-inspired pop. GospelbeacH's newest Another Sumer of Love is a warm collection of tunes about coming home, with nods to Tom Petty and Jackson Browne. On a sunny April afternoon, Rademaker sits on a rock in a strange little park that runs right down the middle of Santa Monica Boulevard in West Hollywood—literally through the middle of the road. Cars woosh by on either side; the Troubadour sits solemnly across the road, reflection of another more distant storied past. Rademaker wears sunglasses and a denim jacket, and a button with a modified Pepsi logo that reads 'LSD.' Here the man whose band once sang 'Your money tree won't give you any shade' talks about success, his deep love of music, and the significant trials behind him. He looks across the street and meets the Troubadour's gaze as our interview begins. GospelbeacH performs Thurs., Aug. 3, at the Echo. This interview by Chris Kissel.
Brent Rademaker (vocals/guitar): I have a feeling Gram Parsons would go in there and get drunk and get kicked out. Whereas the Eagles were like, 'Hey man, calm down—let's not get kicked out.' And that's why they made it so big. They did their coke and all that but—
—they just wanted to get by.
Brent Rademaker: Yeah, man. And I'm not—there was a time in my life where I was a total fuck-up, you know, into drugs and getting thrown out of places, but for the most part I'm on the nice guy side. I think it's funny that first of all I'm still here, and second of all we can walk by the Troubadour and know that all that shit happened right there.
Yeah, and you'd never know it looking at this neighborhood now. It's like looking at a strip mall nail salon and saying, 'Jim Morrison wrote 'The End' in there.'
Brent Rademaker: It's preserved but it can't last. Just look at the Doheny Room next to it. It can't last. But I can relate this to what we're doing because all those bands [faced the question of], 'Are you trying to piss people off or are you trying to turn them on?' And I'm in the really-trying-to-turn-them-on phase.
I've listened to Another Summer of Love a few times and it's such a comfortable experience, which I mean in the most complimentary of ways. It feels like putting on an old shoe. 
Brent Rademaker: It's not supposed to be off-putting, and it's not supposed to be melancholy. It's funny … I wrote 22 songs between the two GospelbeacH albums, and in all 15 to 20 years of Beachwood Sparks I had maybe nine songs. And they were all pretty melancholy. You think they're happy when you're listening to them but they're all really sad. I didn't want to do that again. I wanted to make other people happy, and I wanted to try to make myself happy, and make people feel that vibe that you're talking about—that it's not off-putting. The only uncomfortable feeling you might get is if you think, 'What is the point of this shit?'
Because the songs aren't angry or sad?
Brent Rademaker: I used to write songs in Further that were very [Lou] Barlow-esque. The more I could hurt somebody—or be hurted—the more I wanted to write about it. And people loved 'em, like 'California Bummer' and songs like that. But when I met [my wife] Kathleen, I said, 'I'm not going to write any songs about you until we're together for awhile.' Now that it's coming up on ten years, I'm like, 'OK, here are the songs.' And they just came out, and it was really cool. And that comes back to the title Another Summer of Love.
I realized the album is about the idea of 'home,' and reckoning with the idea of feeling comfortable. 'You're Already Home' is where you reassure yourself that it's OK to feel like you've come home. But 'City Limits' feels like the flip side of that—getting frustrated by the city where you live, and then getting restless.
Brent Rademaker: I do remember feeling that feeling of … I remember about 12 years ago, when I was really having a super hard time, my parents and my brother tried everything to really help me. But they finally cut me off. For six months I couldn't call home or go home. And for the first three months, I didn't care. And then I got in a truck and went to Florida. I went home. I totally realized for the first time how important that was. Maybe because of the way we grew up. And then I wanted to create my own home. That's another thing—between my wife and I, we wanted to find our own place. That's all through the record. We bought a house in Florida that I never could write a song about because we had to sell it in a short sale. But we moved back out here, and we bought a place in the desert. A cabin on five acres. And that's a place that we've been working on, and feeling like we could build into a place where we could live forever. The thing about that song 'City Limits' is … it's funny because that's the one song that doesn't really have to do with love. It just has to do with me and my music and just how L.A. happens to be our home. One of the guys in Beachwood Sparks is from Orange County and he used to tell me, 'Man, I could never live in Los Angeles.' I used to just go along with that and say, 'Yeah, you're right, it sucks here.' But I don't think that anymore. I love it so much.
I was wondering where you settled on that. I detected in that song a weariness—or a regretfulness—about hanging around too long.
Brent Rademaker: Yeah, because I didn't make it. At least compared to other people that I know. For other people, if they heard me say that, they'd say, 'Fuck you. Why are you complaining? You get to do this and that.' But just in all the effort and the time and everything we put into it, I really didn't make it. But that's OK.
You didn't get rich and famous, but you have all the great records you made.
Brent Rademaker: I mean yeah—I try to tell people this all the time. I met a kid from Portland the other day. He was cool. I had a coffee with him and his wife on the way to work. They really loved GospelbeacH and Beachwood Sparks and just wanted to talk. And … I don't know. I mean, it's funny. I tried to tell them that I know people personally who have had hit records, but they can't even get what I have. There's something to be said for that. My advice to them was keep doing what you love and make sure you don't do anything different. I remember one guy in the 90s—it was probably 1991, and I was PA-ing on a video, which was a great job. I was shooting videos all the time, and sometimes there were some cool bands, you know what I mean? I got to work with some bands from the 80s I loved who were still doing their thing. But this was a metal video, which were really fun. I met this guy on set, and he was like, 'What kind of music do you like?' 'I don't know—what kind of music do you like?' 'Oh, well, I like Lenny Kravitz and Jesus Jones.' 'OK, where do you live?' 'Over on Fountain.' I said, 'OK, I live over on Orange Grove, real close—why don't you come over?' And I turned him on to [My Bloody Valentine's] Loveless and [Dinosaur Jr.'s] Green Mind and the essentials—[Nirvana's] Bleach. And after that, he made himself a little alterna-band, cut his hair, started wearing striped sweaters. And they got a big record deal and had, like, a hit on MTV. But I know that guy now—he's still my friend—and he couldn't get a gig at a coffee shop. And he was in a 'buzz band.'
When you're young and you're in a band, you get this idea that the only way in the world you'll ever be happy is if your band blows up. I think there's something reassuring when you discover later on that you can be happy in other ways—perhaps much happier. It's great to have a band that's popular, but…
Brent Rademaker: But how popular do you want to be? When Further opened for Pavement at the Palace, I could have quit then. But we kept going, and now GospelbeacH is playing Green Man Fest in Wales with Julian Cope and Ride and the Allah-Las and Ryan Adams and bands that I know and like and that … I could say right there, 'Wow, look, I made it.' We're not headlining it, but we're playing it, and we didn't ask them—they asked us. So that's cool—but you're right. People don't realize that. I was listening to an interview with Carl Newman, A.C. Newman—we knew him, he used to let Beachwood stay at his apartment in Vancouver when he was in Zumpano. I don't think the New Pornographers were a band, or if they were, we didn't know about 'em yet. But he was getting interviewed the other night on World Cafe, and I could hear something in his voice. He said, 'I don't understand that I have to do this for money now.' You know? I'm not a huge rock star and I work for my money, and I don't even know if people can sustain something like that for money. I mean … I can only think of people I know. They're always on the road. And that's cool because playing is fun. But you're supporting a family and you can't be there? I don't know if I want to do that. I did a lot of touring but I never had anybody behind, so I never had to leave a family. I don't have any kids. So I don't know. Success is happiness. When I listened to the mix [of Another Summer of Love] for the first time, the sky lit up. It was 'California Fantasy,' the song where I'm just wanted to write a theme song for how I feel about my life in California. It was the election, and it was everything … everything that was going on. And I got this feeling listening to it, and I thought, 'Someone else is going to get this feeling.' They're not going to see exactly what I'm seeing, but they're going to listen to this and hear more than just some chords and production and singing. They're going to get it. They have to. It's not going to be a lot of people, but if it's just one—or a couple, and it alters their perception of reality, whether they're musicians or not—that's success.
I felt like 'California Fantasy' was about refusing to buy into the myth of California as a magical fantasy land.
Brent Rademaker: When you do an interview with a journalist from Spain, there's always a question about, 'Do you believe in the myth of California?' I'm like, 'What does that even mean?' It's like the question 'What is psychedelia?' I could do a search of all the email interviews I've done, and there's always a question about that. I know the Allah-Las get it all the time. Beachwood got it. I still get it. I was trying to set it straight. [California] is kind of exactly like it is in Tampa, Florida. It's just about you, man! You're gonna get wasted, listen to your tunes, you're gonna be out in the desert. Don't buy into that commercial on TV that says, 'Come to California, we love it!' and they're surfing and hot air ballooning and skiing and snowboarding and there's Hollywood lights. That's not why I came here.
It's kind of Buddhist—the happiness has to be inside you.
Brent Rademaker: It's major like that. That's the only thing. I couldn't have made this record or these songs—I couldn't have faked some happy feeling. That's why the first album [Pacific Surf Line] is more of a statement on that type of music. Pacific Surf Line is more country rock, folk rock—you know, the way the album cover looks. The stories aren't true.
It was compared to the Grateful Dead.
Brent Rademaker: So much. Oh my God, I'm so tired of that because we're not like that. We don't jam. The new Dead culture is like a guy with a red Solo cup and socks and sandals. That culture to me has been sold out, that jam band culture. So the new album—first of all, I wanted it to be happy, to be rock 'n' roll. I didn't want it to be 60s at all, and if it was 70s, I wanted it to be pushing into the 80s. Not new wave, but…
There's a power-pop Tom Petty vibe. 
Brent Rademaker: That's the cool thing about [producer] Jason [Soda]. I wanted to do Rockpile, Petty, and he wanted to just work with what we have, production-wise. We're already in their world, and he really talked some sense into me about not making a pastiche production. And I was so happy. Because at first I was listening to it and I was like, 'No, it doesn't sound enough like Big Star. It doesn't sound enough like Squeeze. It doesn't sound enough like 20/20—listen to that snare!' And he said, 'No. This is what our drummer sounded like. This is what we sound like.' I was like, 'OK, fine,' and it was so great. I mixed all the Beachwood records—I was there, I heard the tape, every time. So many times, it was like, 'OK, roll it back, turn up the bass.' For this record, I wasn't there. I got to listen to it as a fan. And my attempts to really date it … luckily, we didn't go down that road. I wouldn't have been happy.
When the first GospelbeacH record came out, people talked about it like it was a supergroup record—I mean, with Neal Casal on board especially, it had that vibe. But this record feels more like a statement from you.
Brent Rademaker: It's a major departure. Because Pacific Surf Line was communal in the studio. Neal sang on every song—that voice is pretty recognizable. But then we played shows without him afterward, and the new album … going into it, he wasn't going to be on it. He couldn't do it. We tried, we waited, there was just no way. We were actually going to have him come in and overdub at the end. With Pacific Surf Line, he was there from the get go. I'd walk in with a song, start playing the chords, and he'd go, 'Oh, cool,' and start playing. That's why you hear on that one song, 'Neal, start it!' Because he was there. But with the new album, it wasn't going to be like that. I wanted to forge my own concept anyway. [It was] John [Niemanns]—the keyboard player who wasn't on the first album—and [Jason] and I. Jason and I partnered off. The band that was playing the shows after the first album kind of split up. One guy quit, one guy moved away. So we said, 'We're gonna make this new album kind of like Petty and Mike Campbell would.' Because you know … the Heartbreakers didn't play on all that shit.
They had session guys come in to do it.
Brent Rademaker: Yeah. We thought we'd do it like that because that's our template. Sonically, it was gonna be that way. But not lyrically. Because Tom Petty sings so much about being this kind of scorned guy.
Getting revenge. Getting back at people.
Brent Rademaker: Exactly. In the early days, whether it was a chick or whatever. And I'm not like that. But 'I Won't Back Down'—that's kind of a theme I want to work on in the next record, standing up to the limits that you put on yourself. Because I spent so many years doubting myself and being self-deprecating—you feel like it gets you lots of friends, but once you get old, it plays on your psyche. You can actually get depressed. Which I didn't know I suffered from. My mom had it, and we lost my mom last year to suicide. And I have dealt with suicide attempts in the past. Hard stuff—really gnarly stuff. But I never learned how to get over it, even with therapy and rehab and all that stuff. I honestly believe that I just found a way to get over it on my own, and that was to stand up to limits you put on yourself. There's a great Beach Boys song that Carl Wilson sings: 'Long Promised Road,' from Surf's Up. That is my theme song.
What was the concept for Another Summer of Love? 
Brent Rademaker: When we went to make this album, we said, 'How do we want to make this?' I literally said, 'Let's pretend that we made that first record in 1975, and we were a holdout—some band that was playing the Troubadour, got signed to Asylum, as so many bands did, and put out an album that flopped. And the record company said, 'OK, you have one more chance. But we need you to compete with Cheap Trick. They're so hot right now.' And pretend we said, 'Yeah, but we're really more country rock.' 'Well, they used to be, too. Go do it.' The Cars used to have a folk rock band. That was the fantasy we created. We have a label now [Alive Naturalsound] that we're signed to, and they want to sell records. They want to make great art, but they do want to sell records. We decided we wanted to make a rock record that would have gotten on rock radio in 1978. And that was the vibe, you know. Greg Shaw [late founder of Alive parent Bomp!] was one of the first people to put out anything by Beachwood, and he was another person who loomed heavy on this album. He made that music popular—that power-pop-but-maybe-a-little-country. I think he would have approved. The label loved it. The biggest compliment you can get from your record company is, 'I listen to the record every day.' And [Alive co-owner] Patrick [Boissel], through all our limitations as a band—we can't go out and play all the time; we're old—he doesn't have a lot of money to make the packaging, the gatefold, because we don't sell enough records. But God bless him, he told me he listens to the new album every day. He didn't say that about the first album. I mean, you could quit then!
I wanted to ask you about something, if you don't mind—about the 90s.
Brent Rademaker: Oh yeah! It was the best time ever.
I wrote about [Summer Hits frontman] Rex Thompson last year, after he died. I interviewed your brother [Summer Hits guitarist Darren Rademaker] for it, and a few other people. I honestly didn't know anything about Rex before that.
Brent Rademaker: He left when you were young. It could have been a great movie, you know. Further and Summer Hits were so unsung. We were zealous. We were there for that scene. We had a pretty good following. We were on Creation Records, but if you asked someone about us, they don't know who we are. Do you know what I mean?
Was it because it didn't fit with the zeitgeist of the time?
Brent Rademaker: Well, we were dicks. And we were really into drugs. We weren't junkies but we were speed freaks and acid and ecstasy freaks.
What blew my mind when I was learning about Rex was this idea that you guys in the 90s with Further and the Summer Hits … when everyone else was listening to Nirvana you were—
Brent Rademaker: —we were listening to Matthew's Southern Comfort. Yeah. Rex invented that.
And now, when you look at something as dumb as Coachella fashion and the Fleet Foxes and the floppy hats or whatever, what you all did is in that fabric of that. The boho 60s-and-70s cultural influence that seemed to dominate the last ten years—I realized you were all in some way responsible for that, for the cultural landscape now.
Brent Rademaker: That fact that you see that makes me happy. Because I want to go on the top of a mountain and shout it. Rex and Darren and me—there was a chemistry there. Rex got stuff from us, and we got so much from him. When we met him, he was very 60s, and he had a Prince Valiant haircut. We had these Florida thrift store finds, 70s t-shirts and Vans and the desert boots. We had this rock 'n' roll background, and punk and new wave, and Rex—man, he went so deep. It was beyond. There was this term, 'Springfield mods.' They read somwhere that back in England, the mods started listening to Buffalo Springfield. They started trading speed for acid. Rex followed suit. We were all doing so much speed, and we looked like whatever that makes you want to look like. Our shoes might have been a little dirtier, or whatever. But then everyone started taking a lot of acid and ecstasy and freaking out, and thinking about how to dress and stylize your music. There was so much distortion—even the Summer Hits was buried in distortion. But if you listen to the songs and the lyrics, it's flower power and it's love and it's California. Beaches and Canyons. Everything that we're singing about now. And Rex was the closest thing I know to a guru. He loved Darren and me—he'd let us get away with… like, that hole in my shoe. [points to a hole in his shoe.] That would really irk him. But he'd go, 'Hm, well … the zig-zags, they're kind of cool.' Also I'd tell him, 'Well, I'm at work right now.' But anyway, the night that the Summer Hits opened for Sebadoh—we keep bringing up Sebadoh, because it was the honesty in Lou's songs that taught me to not be afraid.
To not be afraid to sing about yourself?
Brent Rademaker: Oh, I used to write songs about numbers and colors and eyes in the '80s. You know what I mean? But Lou made it so I could sing about myself. So the Summer Hits were opening for Sebadoh at the Roxy, which is a big deal for me because Sebadoh was my favorite band. The Summer Hits are on my label—I have the singles and I'm putting them out. I think I even had a Sebadoh full length at the time I was going to be selling at the show. So the Summer Hits show up, and their fucking 517 boot cuts, desert boots, cowboy shirts, buckles—it was like everybody's flannels were over. It was like, 'Man, that's so rad!' I was so blown away by it. Rex used to give me clothes, but that night changed everything. All of us in Beachwood were there. That was 1996, and six months later we were starting Beachwood Sparks. Beachwood Sparks were basically going to be the mix tapes that Rex made, especially one tape Find the Sun. That was the one. That was the one. We wanted to sound like that.
What was on it?
Brent Rademaker: That tape was so long. Man, it was Matthew's Southern Comfort 'When She Smiles,' which was the main song. This band Argosy, which became Supertramp, had a song on there, 'Imagine.' There was a song called 'Mascot' that sounded like CCR a bit. There was a song by the Byrds. There was a band that sounded like the Dead. There were all these bands that sounded like other bands, and that also sound like what I'm still doing now.
So it continues to reverberate.
Brent Rademaker: Yeah. My memory's a little shot. I mean, if you put that tape on I would know all the words.
All this was going down in Echo Park? That's where you guys lived?
Brent Rademaker: Well, it was a triangle between some of our friends who lived on the West Side, Silver Lake and Echo Park, and our house in Burbank on Sparks Street. That was headquarters. And then we bought a house by the reservoir in Silver Lake, right across from Spaceland. We used to do our residencies there. That was so sick, because we played there every Monday, and there would be a line down to 7-11. Afterwards, the whole crowd would come up to the house, which was like this Brady Bunch tri-level house. Right next to John C. Reilly's house. He was actually really cool about it.
John C. Reilly?