MARGO GURYAN: DREAM, HOPE, PLAN, IMAGINE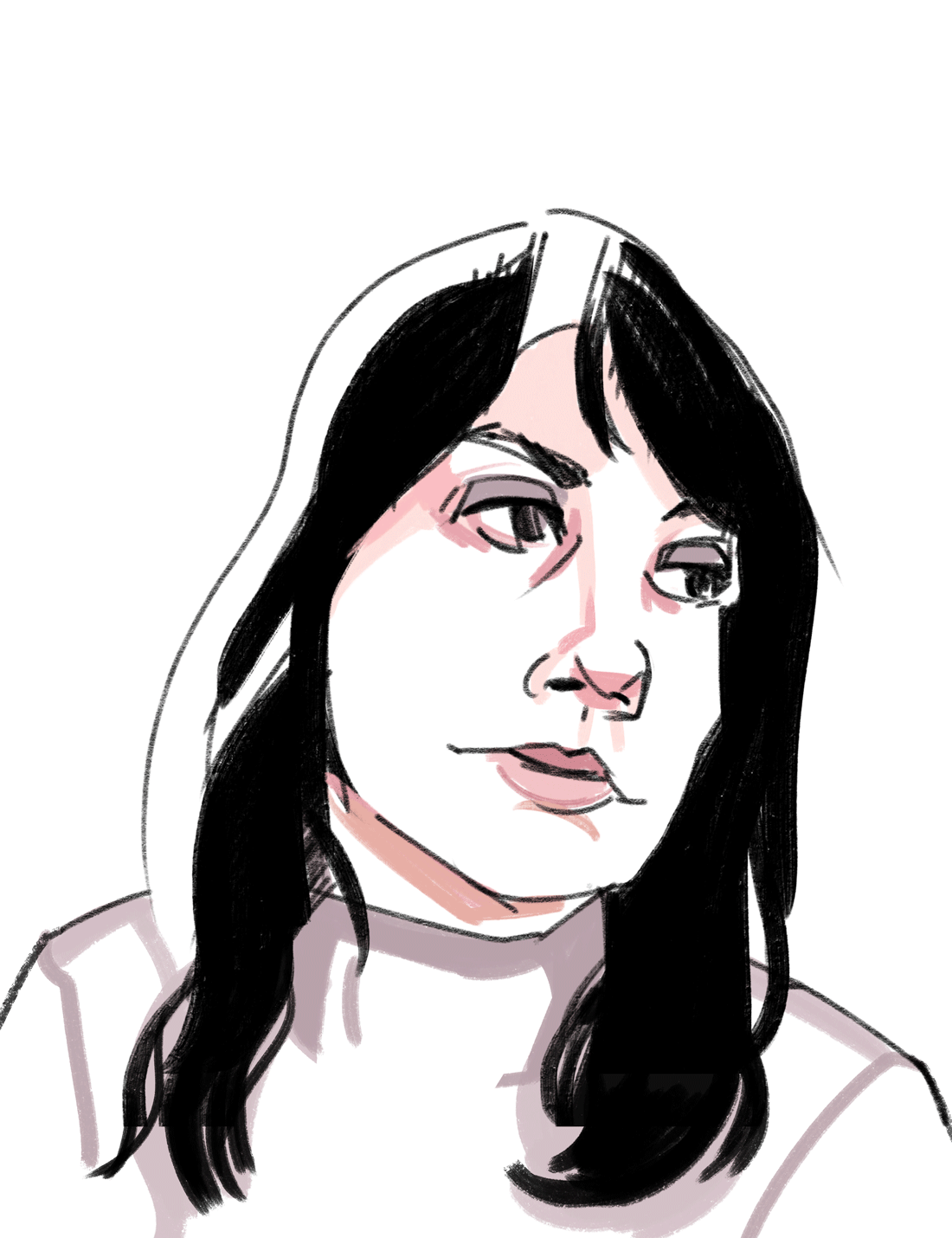 illustration by rachel merrill
I first discovered Margo Guryan when I was working at Amoeba Music in Hollywood. I had just moved back to Los Angeles after having lived in New York City for five years, where I had made and released a record. I had the honor of maintaining the oldies section at Amoeba where the re-issues and unearthed gems flowed in at a (no pun intended) record pace. It was encouraged by management to check out everything that interested us as to better inform customers, so we were given 'loan logs' where we could borrow most any used item that came in, and I certainly took advantage of this perk.
I had highly anticipated getting my hands on a used copy of Margo's Take A Picture, just based on the cover. I had re-stocked the new CDs of this album for the shelf so many times and the photo of this very thoughtful girl in a cozy red sweater staring out at the rain from a perfectly framed window had very much intrigued me. I assumed she was a French pop artist—it was like something out of a Jean-Luc Godard film.
When I finally got my hands on a copy, I learned that I was wrong about her being French—but right in my assumption that this album would rock my world. It was filled with beautiful pop melodies that flowed from sweet, introspective dreamy love songs to complex pop infused psychedelia and made her songs stand out as quite different from the others of the time. I became a Margo Guryan fan from this point on. I found her on Facebook and was happy to learn that she was residing in Los Angeles and was teaching piano. I asked if I could take lessons from her, and was honored to be her student for a short time. It was wonderful to catch up with her for this interview. Margo Guryan's Take A Picture and 27 Demos are available now on cassette from Burger Records. This interview by Tiffany Anders.
When you were teaching me piano, you talked a lot about your love of jazz and studying jazz in school. How did you start composing on your own?
Margo Guryan: I began piano lessons as a child—at age six. But I had 'made up rhymes'—it would be overreaching to call it 'poems'—earlier. As soon as I could put a few notes together, the rhymes became songs. I knew little about the different genres of music, though the first record my father bought for me was East of the Sun by George Shearing. I didn't fall in love with jazz until I got to college in Boston and heard kids playing it in the practice rooms.
How did jazz fit into your life? Was it rebellion? Counterculture? A new home? What made you connect with it so instantly and so deeply?
Margo Guryan: I think the connection was basically rhythmic. The music felt so good. It also sounded so much better than the pop tunes I was accustomed to hearing. I guess 'a new artistic language' would fit best.
After college was your goal to become a jazz pianist? Or was songwriting and singing something that you practiced while studying jazz as well?
Margo Guryan: I think writing was my goal. I did study with Jaki Byard in Boston but I think I was a hard 'teach.' If you want to be a good improviser you have to be a fast thinker. You have to internalize the changes … know them almost intuitively. I'm a slow thinker. That's fine for writing, but not good for jazz improvisation. It became apparent the more I played with other musicians. You had to internalize the chord changes. If you had to think about where you were in a particular song or what chord came next, that stopped the flow. I never wanted to be a singer … or performer of any kind. Some ten years before Take A Picture I was signed to Atlantic Records as a singer, mostly because they liked my songs. The one session I did was a disaster. They told me to 'sing out,' and the louder I sang, the worse it got. But it did get me my first recording: Chris Connor released 'Moon Ride.'
How did you get signed?
Margo Guryan: It was a circuitous route. George Wein—in Boston—wanted to sign me to his Storyville Records. He gave me a contract. My dad wanted a lawyer to look at it. The lawyer we saw didn't like the contract but thought if there was interest in Boston perhaps there might be interest in New York. He sent me to see Herb Eiseman at Frank Loesser's publishing company. I played some songs for Herb. He thought the songs not 'commercial' enough for his company, but he liked what I had written and sent me to Atlantic Records. My parents accompanied me to Atlantic Records—very embarrassing! I was called into an office and met Jerry Wexler and Ahmet Ertegun. They said, 'OK, let's have your demos.' I said, 'What are demos?' They looked at each other with rolled eyes. 'Well, what did you expect to do for us?' they asked. 'I thought I was to play some songs for you,' said I. 'Oh!' And they took me to another office which had a piano in it. I played one song … then another … then another. One of them reached into a desk drawer and pulled out a bunch of contracts. They asked me to go around the corner and do what I had just done while Tommy Dowd—their engineer in those days—recorded me. That's how I found out what demos are! A week or so later, Wexler called my home and said they wanted to sign me.
I know you grew up in New York City, and I recall you telling me a story about sneaking out to see jazz as young girl.
Margo Guryan: I grew up in Far Rockaway, a suburb of New York City. It was more small-town life than city life. There were no clubs—or musicians, as far as I knew—in Far Rockaway. But when I got to Boston University, there were! Storyville was the most popular venue for the bands that travelled and I made sure to take a History of Jazz class that was given at BU by George Wein, who owned Storyville. George allowed me to enter the club through a rear door and instructed the wait-people to ignore me as I was underage and couldn't drink. One didn't have to 'sneak out'. You simply signed out of your dorm. But there was a curfew and you had to sign in by that time. I heard a lot of great bands … and once got to play intermission piano opposite MILES DAVIS! It's a bit of a story which I'd be happy to tell you.
I do remember the story you told me about Miles Davis! I remember you saying he was quite flirtatious.
Margo Guryan: One night I went to Storyville to hear the Miles Davis Quintet. When I got there I learned the intermission pianist hadn't shown up. The club's manager asked me if I would play. I said, 'No way!' I was taken to George Wein's office, given a shot of brandy and talked into it. They told me just to play until I was tapped on the shoulder, at which time I would be finished. Not being much of a jazz improviser, I just played my own songs … one after the other … until I was tapped on the shoulder. I got up and began walking down an aisle when someone approached me. I couldn't see who it was because the room was dark and I was still adjusting, having had a spotlight on me. The person put his hands on my shoulders and said, 'Yeah, baby!' It was Miles.
There were a lot of women as part of the songwriting boom working in the Brill Building in New York City in the early 1960s. Did you hope to be a part of that? Were there any female pop writers that you admired?
Margo Guryan: I wasn't aware of the Brill Building writers at that time. And, in any case, they were writing 'pop' songs, which held no interest for me at that time. I was only interested in jazz—only listened to jazz on the radio and only went to clubs where jazz was performed. I didn't know—or know of—any female pop-writers. Or male pop-writers, for that matter. I had written songs since I could put words and music together. They reflected what I heard on the radio, which was mostly fairly boring 'pop.' But when I got to Boston and fell in love with jazz, everything changed … and everything I wrote reflected my new love. The change from pop to jazz was exciting. And after many years in this arena my friend, pianist-songwriter Dave Frishberg played 'God Only Knows' for me. That song was an incredible teaching moment for me. Brian Wilson's chords almost never had the root in the bass. I thought 'I can do that!' I bought Pet Sounds, listened to it over and over, turned off the record player, sat down at the piano and wrote 'Think of Rain.' Voila!
Spanky and Our Gang first recorded your song 'Sunday Morning' which became a hit and then was recorded by several other pop artists—how did all that get started?
Margo Guryan: Bob Dorough—along with Stuart Scharff—was producing Spanky and Our Gang. We knew Bob and David Rosner, my publisher, suggested I bring a few songs to one of their rehearsals. They were rehearsing in a loft near where I lived and Bob invited me to attend a session. So, armed with two or three demos, I followed my ears and took what was surely a freight elevator to the large space where the group was ensconced. The group stopped singing as soon as I walked in and was introduced to them. 'Let's see what you've got,' one of them said. Bob and Stuart were in a control room where there was recording equipment and a record player. 'Sunday Morning' was one of the few songs I played. They liked that one. 'Why don't you save that for yourself?' I recall Spanky asking. I thought it was an odd choice, as Spanky and Our Gang had just had a huge hit with 'Sunday Will Never Be the Same'. But I said, 'Oh, please—if you want to do it, DO IT!' And they did.
Jackie De Shannon—a wonderful songwriter in her own right—recorded a version of your 'Think of Rain.' Were you aware of Jackie De Shannon as a songwriter? For me, I'd consider it a huge honor to have someone like De Shannon record a version of my song.
Margo Guryan: Of course I was aware of Jackie DeShannon. I especially like her 'Think of Rain' because it was one of very few that didn't copy my demo. The arrangement was totally original. I thought Jackie did a beautiful vocal.
Tell me about recording Take A Picture.